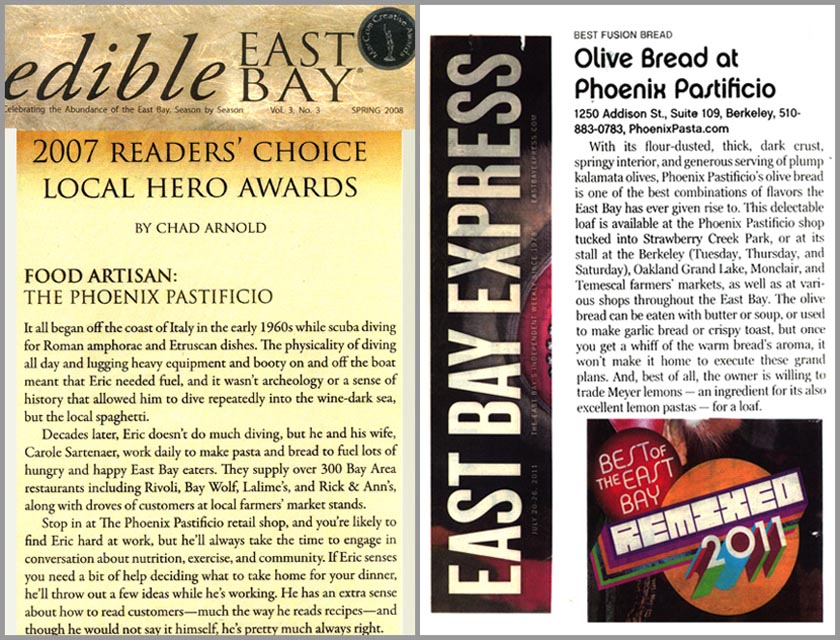 From Carole Sartenaer, co-owner:
"The Phoenix Pastificio was founded in 1995 on Shattuck Avenue in Berkeley. For a number of years we ran a café at this location and presently still service 150 restaurants/ stores throughout the Bay Area. We have been attending farmers' markets since 2000, starting with the markets in Berkeley, and now attend 15 year-round and 3-5 seasonal farmers' markets. This is our third business; our first being Semifreddi's, begun in 1984 in Kensington, and our second being Alpine Bakery, begun in1987 in Alpine, Oregon. In each business our goals have been the same: to produce food to nourish the soul as well as the body, and to become an integral part of the community in which we live and do our business.
In 2006 we relocated to our current location next to Strawberry Creek Park in the Strawberry Creek Design Center. We have machines to produce our pasta, bread and cookie doughs; however, the ravioli, sauces, and the shaping/baking of our baked goods is done by hand. We have 20 people helping us to produce, sell and deliver all of our wares and these dedicated folks are our second family. Many have been here for more than 5 years, and some for 10-15 years. Our crew and ourselves (Eric and Carole) always put our hearts and souls into everything we make, and we have a great time doing it!"


Click here for the article about our Farmers' Market in Berkeley Side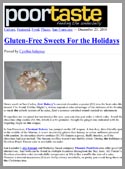 Click here for article entitled "Gluten-Free Sweets for the Holidays" written by Cynthia Salaysay in Poor Taste Magazine, December 23, 2010
Hear what our customers have to say about us:
Joseph R, Oakland: Best damn Vegan cookie I've had , possibly anywhere! Had the Vegan Choc Chip at the Jack London Market today....if it wasn't the last one, I would've gone back and bought the entire supply! Ingredients are 99% organic (Awesome) Made with Avocado- a first that I've heard of that. Choc walnut awesomeness!!!! I reeeeeeeeeeally want the recipe! Next market I'm buying a few and shipping to some friends back east!
Meehee O, SF: Phoenix Pastaficio really is as good as it gets. I started out by buying their whole wheat spaghetti at Bi-Rite in San Francisco. I expected it to be good but boring. I was wrong. It wasn't just good, it was spectacular! It's so fresh it cooks up in about a minute and the texture is chewy al dente and perfect! Even the freaking whole wheat stuff! I then discovered they sell their products out of a nondescript door on the edge of a little park in Berkeley. OMG---here they sell a much more expansive pasta menu (dozens of fresh pastas) and the cookies! Good lord the cookies alone are going to kill me. They sell these chocolate pecan chewy cookies which I believe are flourless and these are pretty much my favorite cookies. And it's not like I'm some gluten-free eater. I eat everything! Their almond macaroons are also fantastic and beautiful. I've gone there before and the guy assisting me will tell me he's made some interesting new cookie flavor and I always buy one of those too. Today I bought mushroom stuffed ravioli. I also want to try their crab or lobster stuffed ravioli. Basically I've LOVED everything I've purchased from this place. And I haven't even tried some of their most popular products that people rave about (olive bread and pizzas). Phoenix Pastaficio are a Bay Area treasure and I often wonder why they aren't even more popular and acclaimed as other Bay Area food treasures. They should be as renown as Tartine. I guess, because they are mainly a purveyor of ingredients (pasta) rather than prepared foods, but I feel like they have the potential to really be explosively popular. They are the best at what they do. Their products are made with care and it shows.
Helen E, Malibu: I'm in love.
With Phoenix Pastificio
With Eric the owner/baker
With the olive bread
With the gluten free chocolate chip cookies
With the whole wheat pasta and pesto sauce
And Especially, with the green/red pepper habanero fresh pasta.
WOW wow wow... it's that jizz-in-your-pants kind of deliciousness that sets this place apart from all others.
Today was my first time. I just moved to east bay a few days ago and wanted to find a killer bakery to send my feller, who lives in the FL panhandle, some special treats. The place is kinda tricky to find, but to me, it was like an adventure... looking for buried treasure kinda thang--and boy did I find it! Eric was so sweet and generous. He made a few rec's (being it my first time and all) and even gave me a free box of his fresh green/red habanero linguine as a "welcome to the Bay house-warming-gift"--the smell alone made every sensory function in me come alive. THEN! with just one small bite of the olive bread, I went over the edge, I went primal. By the time I got to the gluten-free chocolate chip cookies, I was howling at the moon. Unfortunately, I'm new to town and didn't realize the Bay is a cash-only sort of place, so when I didn't have enough cash to pay for my new habit, Eric told me I could settle up with him next time I came in. What a sweetheart... and GREAT MAN for not bursting a girl's high. I went home with my treasures and immediately shared the booty with my neighbors... yeah, it's that good... makes you wanna love and share and dance and paint pink hearts on sidewalks. I guess that's what love will do to ya
Click here to see more comments from our customers
You can purchase these products at our shop, located at 1250 Addison Street/Bonar, suite 109, Berkeley, CA 94702